Copy, Print and Mail Center
Mail Services for Students Living On Campus
If you live in the Boryla Apartments:
You will pick up your mail in the lobby of the Boryla Apartments building. If you receive an oversized package, you will be notified that you will need to pick it up at the Copy, Print and Mail Center.
If you live in the Residence Halls:
You will pick up your mail at the Copy, Print and Mail Center. If you receive a package, you will receive an email notification with a unique PIN that, combined with your Regis ID number, will allow you to retrieve your package from a digital locker inside the Center.
Mail FAQs
Students:
Full Name
3333 Regis Blvd.
(Student Mail Box Number)
Denver, CO 80221
Example:
Ms. Regi Fox
3333 Regis Blvd.
SMB #10
Denver, CO 80221
Faculty/ Staff:
Full Name
3333 Regis Blvd
(Mail Stop)
Denver, CO 80221
Email cpc@regis.edu and include your full tracking number and a screenshot of the delivery confirmation.
Mail on campus is delivered as it is received, sometimes runs can be once to twice a day.
Come over to The Print and Mail Center, we can assist with your mailing supply needs.
Printing FAQs
If you don't have an existing account, go to services.regis.edu and submit a support ticket. If you already have an account, visit the Service Portal for information on how to finish setting up your account.
The printers on campus have been set up for all students, staff and faculty to use. Check out the following Ricoh Knowledge Base articles for more information:
Every student will receive $5.00 per semester. Students may add printer bucks if needed.
Printer bucks that are allocated to a student do not get transferred unless they were purchased by the student.
To add more printer bucks to your account, either call the Copy Print Center 303.458.4380 or visit our store at Regis Square.
In general, a sponsored account is used for campus visitors and contractors, or student employees who need to access a computer and print using a departmental budget. To get started, log in to the ITS Service-Now portal and submit a Sponsored Account Request. When the sponsored email account is active, you will follow the usual steps for Print profile creation for the new account.
Bringing your own printer to campus is not allowed per the Regis Fiscal Policy. If you want to request a new printer, go to services.regis.edu and submit a support ticket for a new printer.
Print Order FAQs
Speak with your department's Budget Manager.
It depends on the size and complexity of the order. In general, we recommend 3-14 days in advance.
During busy periods, it is crucial to ensure that print orders are submitted in a timely manner so they can be completed on time. If you are unsure, please give us a call at 303.458.4380 to confirm an ETA.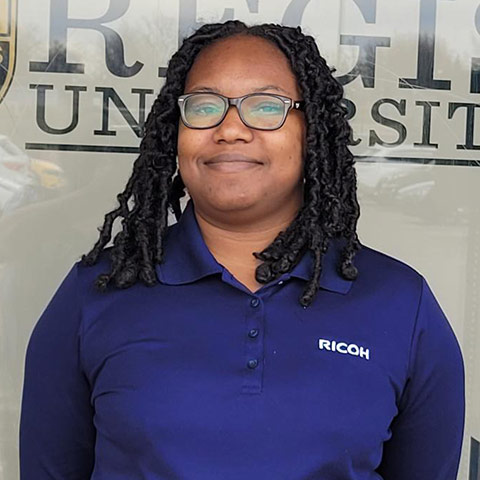 Ra'Quan Stovall-Perry
Print and Mail Site Supervisor
303.458.4380
cpc@regis.edu